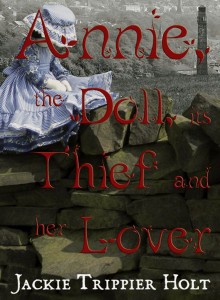 After twenty four years, Kate returns to her Lancashire home town to claim her inheritance, with a new name and a life she would never have had if she'd stayed. She has two weeks to empty the farmhouse of her dad's possessions and put it on the market so she can slot herself neatly back into London normality. Easy.
Except, her former friends insist on calling her Kathy, the family home is filled with ghosts, the Wild won't stay where it should and it's proving very difficult to return what she stole from Aunt Annie.
Plus, there's distraction in the shape of Simon, her first love – old enough to know better but still getting into fights and still hanging around with the same crowd.
In fact, not a lot moves on in this tomb of the 19th century cotton kings: this is the industrial North, where dreams are born free and hunted by distant accountants, where the slow creep of the moss is ignored, violence is endemic, change is feared and local bards sing odes to Class B drugs.
Kate feels very pleased she has moved on from this backward place. Kathy's not too sure.
Goodreads reviews of 'Annie, the Doll, its Thief and her Lover'

"Not only is it's language rich and evocative, there's an intimacy to the narration that seems to dance the line between 'comfortable' and 'too close'. Simon, faults and all, is a character I could easily fall in love with. I love the glimpses we have of the other townspeople. The author has a keenly observant eye, and Kathy's father has some truly terrifying moments…"
Nicole, reviewer
You can read more reviews or buy the book via the tags, top right of the screen. Now see Dirty Monsters.